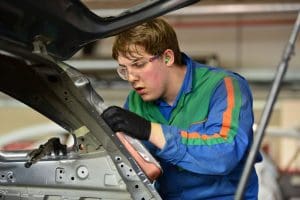 No. Absolutely Not !  You don't have to use the auto body shop that the insurance company recommended. The choice is yours — by law, in the majority of cases. Yet a question remains: Will you get a quality repair?
Most insurance have repair contracts with body shops in your area. Choosing the insurance company's repair shop has benefits for the insurance company, which has negotiated lower labour and material rates, as well as parts discounts with those shops. The insurance company refers to them as "preferred body shops".  The shop will have met the insurance company's equipment and training requirements but most insurance companies will also require these shops to offer discounted repairs and work with the insurance companies to lower the insurance claims payouts which is not to your advantage.
Insurance company claims representatives are given set goals. In general, companies would like to see at least 40 percent of their claims go to their direct repair shops. If you have chosen your own repair shop, claims representatives will frequently try to sway you away from your decision, telling you that your shop isn't on their list, thus they won't be able to handle your claim efficiently. They may explain that it will take up to a week before an adjuster will be available to write an estimate on your car. They could go further by stating that their company will not warranty the repairs if you don't have your car repaired at their shop.
Do not be intimidated by this. Reputable auto body repair shops provide a  warranty no matter who is paying the bill. Shops are systematically interested in handling your claim and the repairs efficiently. Also, shop estimators are familiar with your insurance company's claims process and know their local adjusters, making it easy to complete the estimate process and repairs quickly.
Again, the choice is yours.
Overall, if you have a body shop of choice, it is important that you choose a repair shop that you feel confident in.   Sometimes, smaller body shops can help with paying your deductible and it will be at no out of pocket to you.  The insurance recommended repairs shops won't do that as they are working with the insurer to save them money and obtain bonuses for doing so at the year end.   Why would you want to help the insurance company when you have been paying your premiums and now you need a repair, you want to help them save money……………..no way jose !  Research shows that if you choose your own body shop you can usually pay zero out of pocket and obtain great results.  Sometimes the smaller body shops may also throw in a free scratch or dent repair that may not be part of your claim if you work with them !  The big guys won't do that !
Plus, you will support your local economy rather than fill the deep pockets of insurers !
Support Best Deals Auto today and let us handle your insurance claim professionally and no hassle.  We also get you in a rental car same day !
No body shop can hold contracts with all insurance companies. If the shop you chose isn't on the insurance company's list, it doesn't make them a poor choice. Your shop doesn't have to be on your insurance company's direct repair list in order to repair your car professionally and efficiently. A reputable body shop will work with any insurance company to restore your vehicle to the condition it was in prior to your accident and provide a lifetime warranty on repairs.