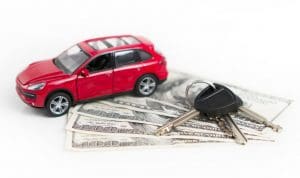 Usually lease payments are less than finance payments, but you should never forget that you don't actually own the vehicle the lease company does; you're only the caretaker. Unfortunately, as the caretaker if you don't partake care and feeding of your leased vehicle, you may get a very expensive reminder at the end of your lease when your car undergoes its wear-and-tear inspection.
For example, when you learn the cost for the door ding you got in the supermarket parking lot you may gasp at the added expense on your lease return. Or that cigarette burn in the upholstery on the drivers seat you said never mind to. Or those extra kilometres from your family vacation to Disney World, Florida. Add it all up, and you may be on the hook for hundreds or even thousands of dollars. Some wear-and-tear is worth fixing in advance, while other problems might be safely ignored.
Here are some tips to help you and your wallet to survive the inspection.
1. Repair damaged bumpers, broken windshields or bald tires. Otherwise, the lessor will do it for you, for a fee.
"Tires, glass and bumpers are the three things that you are always better off fixing yourself," . If your tires have at least 4mm of tread remaining, you probably won't be charged. But if your tires are bald, you may be on the hook for replacements. This is why it's a good reason to rotate your tires on a regular basis.  Let Best Deals Auto help with this !
Damaged bumpers are another common problem.   Its cheaper to get it replaced or repaired at a private shop then let your dealership bill you at Dealer Sky High Prices.  Likewise, you'll be charged for any equipment that doesn't work properly, such as radios, window regulators, navigation systems and the like. It's a good idea to get these things fixed in advance, so that you can get a decent price on the repairs. Also, its a good idea to keep your receipts, so that you can document your repairs.
If a headlight or taillight is scuffed but not broken, you may avoid a penalty fee. But the inspector won't overlook a major crack in the windshield.  Again, its better to get this fixed elsewhere rather than let the dealership charge you an arm and a leg for this repair at their high prices .
3. You may get a break on minor door dings, scratches and upholstery stains.
Check your lease policy. Every lease policy interprets these problems differently, so it pays to read the fine print. Small dings, scratches and stains are often considered to be legitimate wear-and-tear. In general, you're subject to what's known as the "credit card test" for lease damage. If the damage is a scratch that can be covered up by a standard credit card, you're good. Make sure you are covered by this credit card test before you turn your car in.
For example, some lease companies won't charge for body dents less than one inch in diameter, while others won't charge for dents less than four inches wide. But if there's a puncture in a body panel, in all likelihood you're going to be charged for it.
4. Make sure that your car has all the equipment it started out with.
If you left the cover for your car's luggage compartment in a corner of the garage, remember to put it back. And ditto for the spare tire cover or the third row of seats for your SUV.
5. Make sure that your car gets scheduled maintenance.
Keep a written record of your car's maintenance, so that you can prove you changed the oil regularly, checked fluid levels, rotated the tires, etc.
If you encounter engine trouble or other mechanical problems, your records will help demonstrate that you were not at fault. Of course, if your lease is no longer than 36 months, the vehicle warranty should cover the cost of any necessary repairs.
6. Some lessors offer wear-and-tear insurance, but consider the price carefully.
If you're a hopeless slob – or if you have small children who tend to spill things – you might consider buying wear-and-tear protection.  However, these are usually highly priced and  customers may end up paying a hefty premium for their coverage. Do your homework.  Usually just common sense and extra precautions to attend to things if and when they happen rather than waiting will save you in the long run.
7. Don't exceed your annual mileage limits. The leasing company won't cut you any slack.

Lessors generally offer a range of mileage allowances.If you know you are going to do some serious driving, lessors generally allow you to buy extra mileage limits for a fee per km, which is considerably less than the penalty fee.
MORAL OF THE STORY:  HAVE A REGULAR GARAGE AND BODYSHOP MAINTAIN YOUR VEHICLE DURING YOUR LEASE TERM TO HAVE A CLEAN, NICE EXPERIENCE UPON YOUR LEASE RETURN.  CHOOSE BEST DEALS AUTO AT 416-745-9700 FOR A COMPREHENSIVE LEASE RETURN INSPECTION.